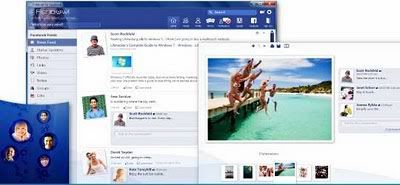 I just came back from my training on iPhone application which very interesting and I highly encourage you to explore this area because our world start to change to the "touch decive" such as iPhone. In future, I will share some basic instructions or tutorial how to create your own applications even you didn't know programming language or not have iPhone , you still can build the applications.
Today I wanna share another applications which support facebook and you can do it on your desktop without open the browser. Experience your Facebook content in new ways with a trial desktop client application that lets you personalize how you read your newsfeed, update status, comment, like, browse and upload photos.
Every facebook update you can watch it on your desktop, share your pictures on facebook by just simply drag & drop photos into Fishbowl to have these published to Facebook. Sit back and watch a full screen slideshow to see your albums. This the easiest way to share pictures on facebook instead of uploading it from facebook web browser.
Fully integrated with Microsoft Windows 7 features such as the new taskbar so you can monitor Facebook activity and friends at a glance. Multitouch navigation and image gestures to navigate and view your photos.
give a try http://www.fishbowlclient.com